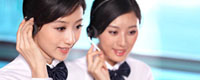 Tel: +86-18 423 717 818
E-mail: sales@cqoptics.com
Add: 3rd Zone, Gongdatang, Jiangdong Street, Yiwu City, Zhejiang Province 322099 CHN


Product name : Rotating Titanium Sputtering Target

Product No. : 2021913131234

Material : Titanium

Size : OD-157 / ID-133 × 3850mm. OD-180 / ID-160 × 1800mm

Density(g/cm3) : 4.506g

Refractive Index : 2.160

Form : Tube

Purity : 2N5

Application : Solar cell, Building Glass, Automobile Glass, Semiconductor
Details:
Titanium Rotating Magnetron Target
The target is made into a tube, which is equipped with a stationary magnet to rotate at a slow speed.
The advantage is high utilization rate (more than 70%), and the disadvantage is high cost.
Grain size: ≤ 100um
Production process: forging, CNC processing
Packing:
The products are wrapped with pearl cotton and loaded into wooden cases, which can not only avoid the collision and damage of goods during transportation, but also prevent the impact of external goods on products.